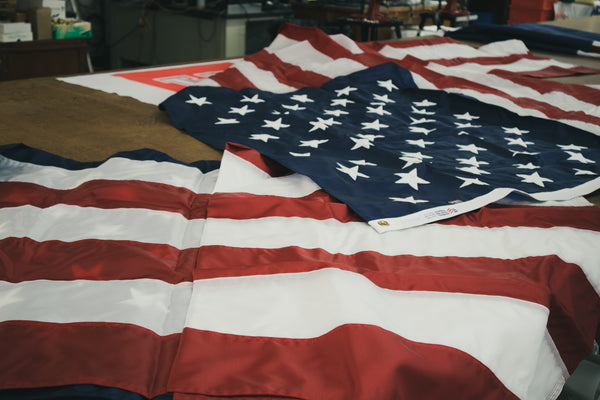 Which flag material is best for your use?
Should you get a polyester, nylon, or cotton flag?  Below we break down the benefits, costs, and best applications for each of these materials based on their environment and use. If you ever have additional questions, please reach out to our team.
Scroll to read more →
 

TOUGHEST
SUPER
GREAT
Benefits
Most UV resistant.
Flies best in light winds
Heavy duty but not as durable as nylon and polyester.
Material specification
Heavy weight, 100% 2-ply, spun woven. Longest lasting flag material made. Also known as Tough-Tex.
200 denier 3.2 oz bright Dupont nylon.
Heavy weight material -not that cheesy stuff you see at the flea markets.
Pricing for 3'x5' U.S. Flag
$56.00
$43.00
$49.00
Appearance
Matte or Dull, looks like cotton.
Glossy
Matte or Dull
Material weight per sq yd.
5.0 oz./sq yd
3.2 oz./sq yd
4.7 oz/sq yd
Weight of finished flag
15.7 oz
9.7 oz
13.4 oz
Embroidered Stars
Yes
Yes
Yes
Sewn Stripes
Yes
Yes
Yes
Printed Stars
No
No
No
Printed Stripes
No
No
No
Brass Grommets
Yes
Yes
Yes
Stitching On Fly End
4 Rows
4 Rows
4 Rows
Header
Canvas
Canvas
Light Canvas
Applications
The flag industry's latest material developed to provide the longest longevity in commercial, high wind and 24 hour flag installations.
The best all around flag for good looks and durability. For residential or commercial use.
The standard of the industry 40 years ago. Use for occasional needs like holidays and room decoration. Also great for the customer who just likes the look and feel of natural fiber material or the old timer who still prefers the way flags used to look.

Shop Now

Shop Polyester
Flags
Shop Nylon
Flags
Shop Cotton
Flags
A message from Ron Kronberg, Owner:
There is no standard empirical data available on how long a flag will last
One guideline is that the average life of a nylon flag that is taken down in the evenings and before a storm is approximately 3 months. Therefore, if you leave you flag up 24 hours a day, this would reduce the average flag life down to about 1-1/2 months and even shorter if left up in a high storm. Wind and sun or UV rays are the main causes of flag deterioration.
Someone once told me that any flag in a 70 mile per hour wind will tear up in a matter of hours. The best flag nylon available will lose all structural value if left in the sun continuously for 9 to 12 months. My dad always said if you wear the same socks everyday they would wear out too. So buy the material that best suits your needs and pocketbook. And buy lots of flags so you will always have a fresh one to display.