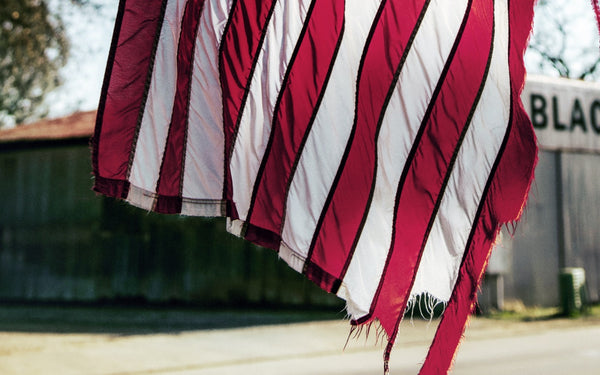 We Offer Free Flag Disposal and Flag Repair
When your American flag (or any other governmental flag) is damaged, you may be wondering what to do with it. Simply throwing your flag away is considered to be disrespectful, and repairing it on your own may be out of your wheelhouse. But don't fret–– You have options! At Kronberg's, we offer flag disposal or re-hemming of your flag free of charge. 
If Your Flag is Damaged
Flags can commonly become frayed at their tail (or fly end) due to wind and weather damage. If your flag isn't too damaged and if the ends aren't too deeply frayed, we may be able to repair it for you for free. Our process involves cutting off the end of the flag that has become tattered and re-hemming it.

(Image from Fine Line Flag)
If You Need to Dispose of Your Flag
There are several proper ways to retire a government flag. Organizations like the American Legion, Boys and Girl Scouts of America, and the Veterans of Foreign Wars collect and perform flag burning ceremonies that include a scripted reading to honor the flag. These places often have collections in your area where you can drop off your flag for ceremonial disposal.

(Image from Defense.gov)
A ceremony is not mandatory for flag disposal. At Kronberg's, our process involves cutting the flag up into small enough pieces so that it is no longer recognizable as a flag and then properly disposing of it.
If you need your flag repaired or disposed of properly, feel free to contact us by calling 713-661-9222 or 800-344-3524 today!