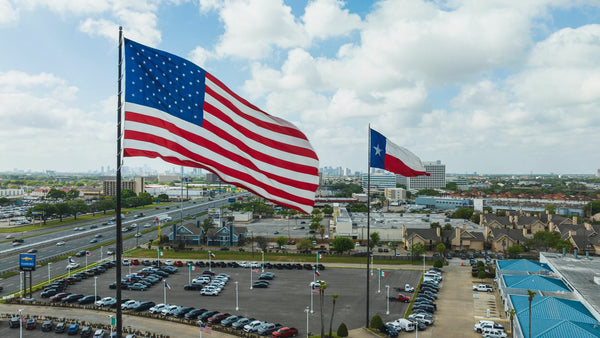 The Kronberg Story
The year is 1976.
The Vietnam War was over, the Bicentennial of our country was in full swing, and Americans were feeling their patriotism.
I graduated with a 5-year degree in architecture and became very interested in streetscapes. I was especially interested in Europe and New York where flags and banners helped to turn plain and colorless streets into exciting places.
In Houston, my parents' 20-year-old contractor supply business was in need of some fresh blood. With my new skills and interests, we decided to work together to develop a one-stop, full-service flag and flagpole business.
We had previously sold flagpoles to general contractors for major construction projects throughout the city. Offering flagpoles in a variety of materials and sizes to the general public was a new concept, and most flag companies didn't sell, install or maintain flagpoles– and the flagpole suppliers didn't sell flags. 

 Ron at the shop in the early years.
We started with a two-page catalog and established an ad budget for print media like the Yellow Pages and the Houston Post. Eventually we expanded to TV, radio, and mailings. We even added the manufacturing of flags and banners to our line in 1985, and, in those days, digital printing didn't exist so everything was hand sewn and appliqued.

To this day, all of our products are made in the USA, and most are still made in our factory in Houston. We now have a brick and mortar retail location, an online store, and we maintain one of the largest inventories of flagpoles and flags in the country.
We love the diverse array of customers we serve: from astronauts, former US presidents, and celebrities to universities, museums, and rodeos, we've had just about every kind of customer you can imagine! We may have even sold the first flag on the moon since our vendor, NASA, is located not too far away.
Kronberg's storefront in Houston, Texas.
We are one of the few flag and flagpole businesses in the country that still accepts worn governmental flags for confidential retirement, and we offer free tail re-hemming for tattered flags. We also display flagpoles from 20-80 feet at our retail location to give customers all the information they need to choose the right product.
Simply put, I care about this business and love serving our customers. Whether you need a pirate flag for your tree house or a 60 foot flag for your corporation, Kronberg's has everything you need.
-Ron Kronberg